Environmental Lecture Series wS2324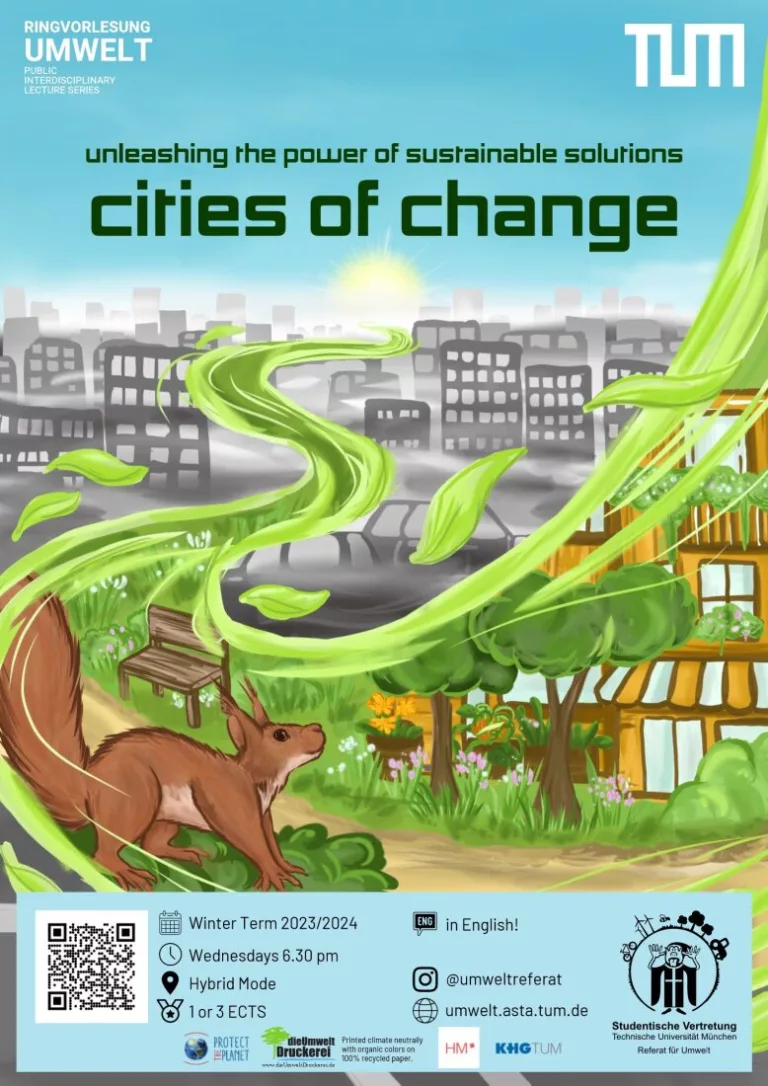 Cities of Change: Unleashing the Power of Sustainable Solutions
The world is closing in
And did you ever think
What will the future look like?
The future's in the air, we can feel it everywhere
We're blowing with the wind of change.
(Adapted from Klaus Meine)
How do you dream about the future? Can you depict what the future of our cities would be? What are current trends in mobility? Will the future be chaotic or sustainable? Will there still be the possibility of a green horizon for cities in the face of climate change?
Each city is unique and so are its challenges in the scenario of ever-increasing population growth. Without any change, mobility will collapse in just a few decades. We need disruptive change that at the same time considers the climate crisis. So, what are the sustainable solutions already at our disposal, and how can we participate in shaping urban centers around us?
In this lecture series, we will uncover some answers to these questions, undoubtedly uncovering more, but smarter questions. We will listen to the wind of change, learning what today's actions are. We will take you to the magic of the moment, sources of inspiration where the brightest ideas take place. Finally, we will invite you to share your dreams about the future of our cities and together nurture sustainable ideas to enable a better urban space to live in for everyone.
For TUM students interested in earning 1 or 3 ECTS credits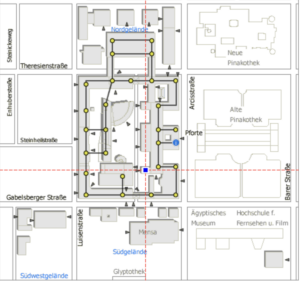 On-site: TUM Main Campus
Room: 1180 (lecture hall)
Floor: 1
Building: 0501 Institute Building
Location: Arcisstraße 21, 80333 Munich
Online: Zoom Webinar
Webinar-ID: 642 0493 1687
Passcode: resilience
History of the Environmental Lecture Series
The lecture series on the environment is an interdisciplinary, public lecture series organised by the Environmental Department of the Student Union of the TU Munich. It is organised by TU Munich students on a voluntary basis.
Speakers have been giving lectures on the topic of sustainability since 1985. This includes, for example, technical environmental protection, health, consumer and climate protection. In this way, it offers both students and teachers at the TU Munich, as well as the non-university public, the opportunity to learn about and discuss these topics and research results at a scientific level.
The speakers from research, associations, authorities and companies will be happy to answer questions from the audience after the lecture; the slides of the lectures, and in some cases the video recordings themselves, will be made available – if available – on our website. In the 40 years of its existence, more than 480 lectures have been organised so far.
In the meantime, the lecture series on the environment has become a regular part of the TU's lecture programme and is supported, among others, by the management of the TU Munich, the Munich Center for Technology in Society and the KHG of the TU Munich. The lecture series on the environment is a partner of the BNB, the "Alliance for Sustainability in Bavaria". In addition, some lectures are held in cooperation with the Environmental Academy and the Munich Forum for Sustainability.
Our previous lecture series
Watch our previous recorded lectures here!