We are the Environmental Department of the Student Representation of the TU Munich ('URef' for short). We deal with sustainability issues at the university in a variety of ways and organise sustainable events and projects of all kinds.
Join us at one of our next events!
We're always hosting events, from clothes swap parties to kick-off events with delicious vegan food, to walks through Munich showing how to live more sustainably, and much more!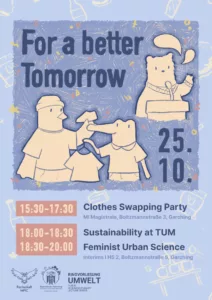 CLOTHES SWAP PARTY
Wednesday, Oct 25, 3:30 to 5:30pm

Swap clothes, books, and plants! For more info, visit the page here

Want to help out with organising the event? Sign up here: https://helfen.fs.tum.de/ktpmi2023

MI Magistrale, Boltzmannstraße 3, Garching
FIRST MEETING
OF THE SEMESTER
Thursday, Oct 26, from 6pm

Updates about our work, upcoming events, etc.

AStA office, Munich Campus, Arcisstraße 17
SEMESTER KICKOFF
FOR MEMBERS & NEWBIES
Saturday, Oct 28, from 4pm

Get to know each other, games, joint dinner

AStA office, Munich Campus, Arcisstraße 17
If you are interested in sustainability and want to get to know the Umweltreferat, feel free to join us at our semester kickoff.
We will have a joint dinner, some games and you will have the chance to get to know some of our team members and learn more about our work.
We are looking forward to see you!
Here you can find an overview of some of our projects and events
Passionate about sustainability?
Are you interested in sustainability and ecological issues and would like to work in a motivated team? Fill out our short contact form and we look forward to welcoming you to our team.