Swap Clothes, Books, and Plants
14.06.2023, 5:00 – 7:00 PM
TUM, Arcisstraße 21, Immatrikulationshalle
Swap guide for clothes, books, and plants
What to bring
NOGOs: damaged, dirty and worn-out clothes, underwear, jewlery, decorations and accessories
Gos: clean and intact clothes & shoes, bras, functional clothes (swimming and other sports), books, plants – for men, women, diverse, and children!!!
TIP
Bring additional bags to carry all your newly-found items.
Important
You don't have to bring clothes, books, or plants to participate!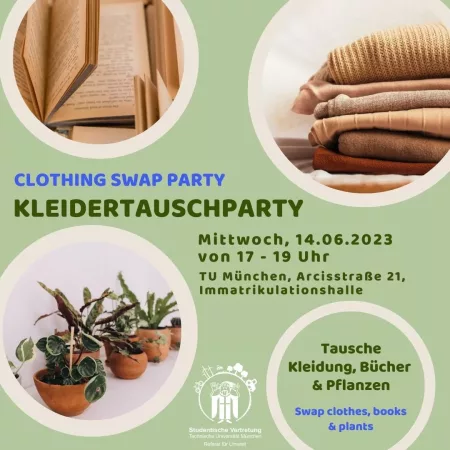 Check-In: distribute your clothes, etc. at the designated tables and racks (pay attention to the labelling.)

Swap: help yourself to the items brought by other party guests; if necessary, changing rooms are available for trying on clothes.

Check-Out: take your new items home. Clothes and books that are left will be given to charity or can be taken home by the original owner.

Foodsharing: our foodsavers of the Environmental Student Representation will provide delicious snacks for you to help yourself to for free.